The Brooklyn Blades were mentioned in the NJ Devil's 2002 Report to the Community. The Blades held a fundraiser at the beginning of the 2001-2002 season, where we sold over 120 tickets to the NJ Devils vs. Colorado Avalanche in a re-match of the 2001 Stanely Cup Finalists. Proceeds from the sale of these tickets went to support the Brooklyn Blades Women's Ice Hockey Program. (The Brooklyn Blades is a 501 (c) (3) non-profit organization.)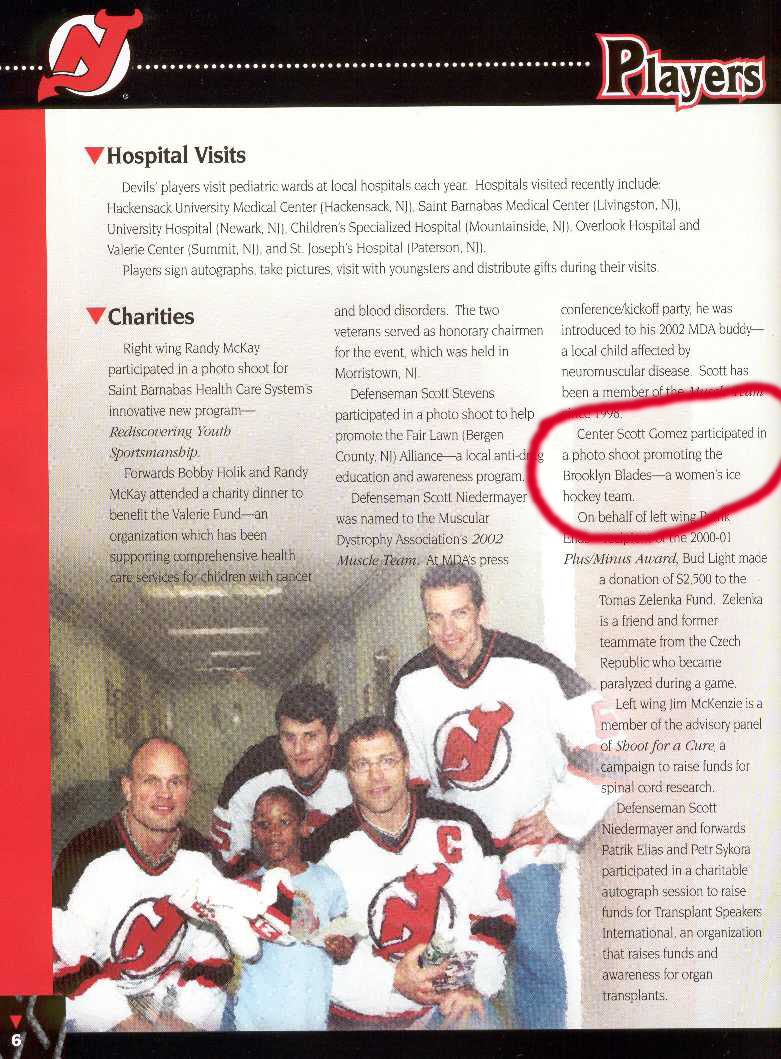 Because of our committment to sell these tickets, a few of the Blades memebers had the privilege of meeting Scott Gomez and having a photo taken with him. Scott is a star center for the NJ Devils, and 1999-2000 Calder Trophy Winner. Scott also autographed some sticks and pucks, which were given away as raffle prizes in the 2002 Blades' Annual Comedy Benefit.







Front Row (l-r): Deb Glazer, Jeanne D'Onofrio, Jill Newman, Scott Gomez, Liss Platt, Rachel Mahoney.
Back Row: Blades Team Trainer (and FDNY EMT!!) Brad Mann, A Team Coach Glen Jamieson.