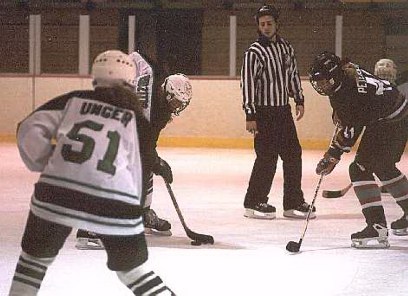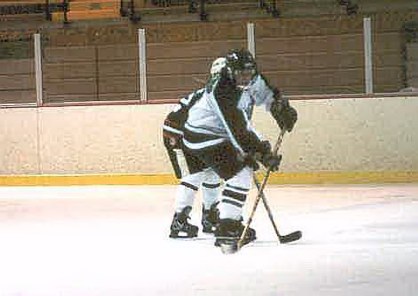 Rat wins the faceoff .... defenseman Danae Kokenos intercepts a pass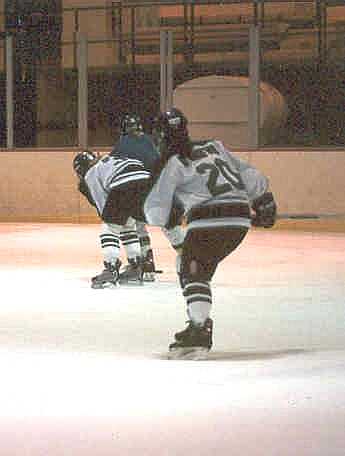 Lindsey Rothchild successfully chases down a QCat with the puck......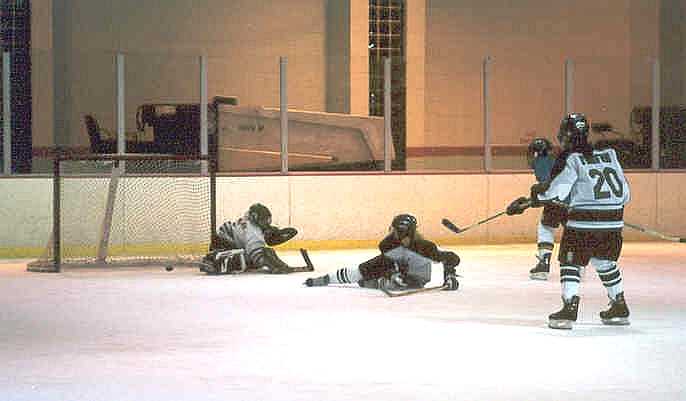 .......Rothschild throws a block..... Kaplan makes a save.......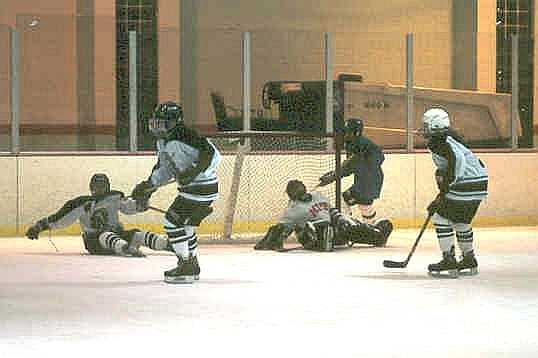 ..........and netiher the puck nor Lindsey go into the net!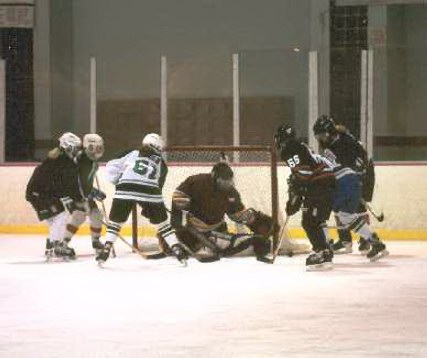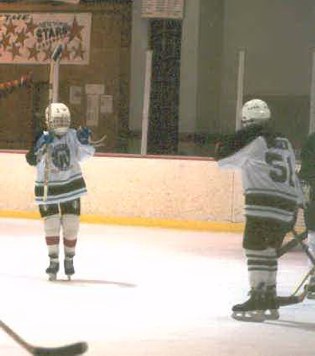 Kat "in the Hat" Unger earns her nickname, as she gets her 3rd goal of the night! Linemates Heather Moday and Unger celebrate.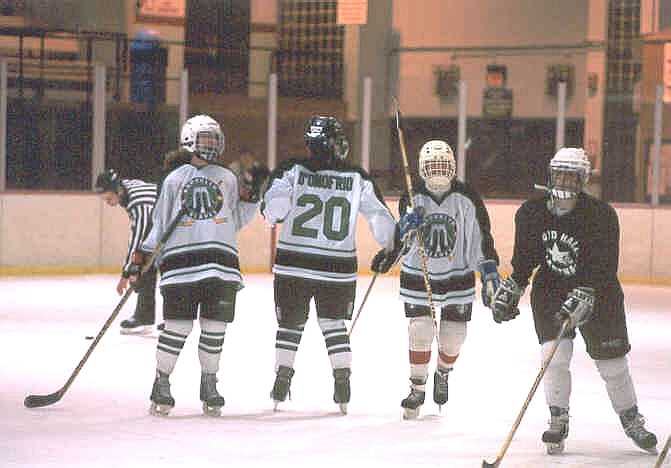 Unger, D' Onofrio, and Moday celebrate the Blades 5-1 victory of the Quarry Cats.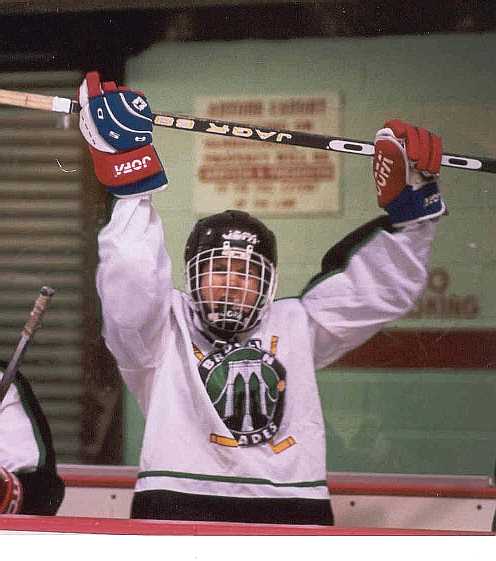 Linda Hayes is pretty gosh darn happy.
Blades d. Quarry Cats 5-1
Forwards:
| | | |
| --- | --- | --- |
| | • | Moday, Rudzitis, Unger |
| | | |
| --- | --- | --- |
| | • | Glazer, Rojas, Bryer |
| | | |
| --- | --- | --- |
| | • | Hayes, O'Flaherty, Herlihy |
Defense:
| | | |
| --- | --- | --- |
| | • | Ansell, D'Onofrio, Dugan, Kokenos, Rothschild |
Goaltender:
| | | |
| --- | --- | --- |
| | • | Kaplan |
Blades Goals:
| | | |
| --- | --- | --- |
| | • | Unger - Rudzitis |
| | | |
| --- | --- | --- |
| | • | ?????? |
| | | |
| --- | --- | --- |
| | • | Unger - Rothschild, Rudzitis |
| | | |
| --- | --- | --- |
| | • | Bryer - Glazer |
| | | |
| --- | --- | --- |
| | • | Unger - (unassisted) |
Game Highlights:
| | | |
| --- | --- | --- |
| | • | Bryer gets her first goal ever. |
| | | |
| --- | --- | --- |
| | • | Kat Unger gets a hat trick. More goals in 1 game that she got all of last season! (In her own words!) |
| | | |
| --- | --- | --- |
| | • | Doogie eats a Snickers bar before the game. |
| | | |
| --- | --- | --- |
| | • | Deb Glazer plays her first game as a Brooklyn Blade. |
| | | |
| --- | --- | --- |
| | • | The Blades B Team Mascot, Weasie, is under the direct supervision of Pookie, and Pookie's Mom and thus so far staying out of trouble. |
| | | |
| --- | --- | --- |
| | • | Blades do not take any penalties. |
| | | |
| --- | --- | --- |
| | • | Blades use the upstairs locker room (again). |
| | | |
| --- | --- | --- |
| | • | Blades are now undefeated at home since they started using the upstairs locker room and Doogie started eating a Snickers before the game. |
| | | |
| --- | --- | --- |
| | • | Blades are now 2-2 for the season. |