Welcome to my unofficial Body For Life web site.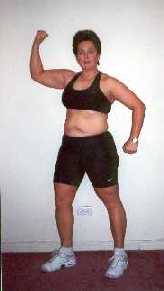 OK, this was more than 12 weeks..... This was after 3 Challenges - Feb 20, 2000 through Nov. 27, 2000.


I started on 2/2/00 at 224 pounds and 47% bodyfat. Yes, 47%. I finished my first Challenge on 5/16 at 199 pounds and 37.5 % bf. On Nov. 27, I checked in at 176.5 pounds and 32% bf. I am STILL GOING - until I reach my goal of 15-20 % bf.

I took "4 weeks off" between the end of my first and the beginning of my 2nd challenge. I did not "go crazy" or go back into my old habits, but I was just trying my own form of maintenance. I added in some "treats" a few times a week, and did not go to the gym every day. I worked with my trainer 2X a week, and did other things on my own - cycling, hockey, etc. During the 4 weeks "off' I learned the importance of Body for Life really meaning Body for LIFE - not Body for 12 weeks.

I put the pedal to the metal, and you can see I had great results on my 2nd Challenge. I started on 6/20 at 196.5 pounds and 36.7 % bf, and finished on 9/12 at 187 pounds and 34.8 % bf. Although the "numbers" are not there on the 2nd challenge, you can see that my body SHAPE had changed quite a bit. (For the better, I might add!)

I just finished my 3rd Challenge.

As time permits, I will update this website.

Click on the above links for more info and for more pics..........